On Wednesday, March 15th, the House Environment and Natural Resources Finance and Policy Committee took up the Zero Waste Grant Program (HF2693). Sponsored by Representative Athena Hollins, the legislation creates a grant program for small businesses, non-profits, and local governments to support their efforts to create reuse systems, reduce waste, and contribute to a circular economy. Funding priority will be given to projects that impact environmental justice areas and rural communities. Eureka Recycling provided testimony in support of the bill.
Amid historic supply chain disruptions, the intensifying climate crisis, and rampant plastic pollution, there has never been a more important time to invest in a circular economy for Minnesotans that prioritizes reduction and reuse. Investments in Zero Waste infrastructure are investments in a resilient statewide economy, a healthier environment, and stable supply chains for Minnesota manufacturers.
Our climate crisis is directly correlated with an economy that supports linear consumption over circularity. According to the EPA, 40% of our greenhouse gas emissions come from linear consumption – producing, transporting, using, and disposing a material good. In 2017, more than 1.8 million tons of waste ended up in our state's landfills, and more than 1.3 million tons went to the incinerator. Yet, with proactive legislative action, we can prevent this waste. According to the MPCA, nearly two-thirds of what is landfilled and burned in Minnesota could be reduced, reused, recycled, or composted with improved infrastructure.
The systems of single use packaging and linear consumption and waste are well established, and it is critical that we support opportunities to invest in and build out the alternatives. This bill creates a grant program for small businesses, non-profits, and local governments to overcome start-up barriers and support their efforts to create reuse systems, reduce waste, and contribute to a circular economy. HF2693 will invest in:
Source Reduction & Reuse: Funding will be prioritized to support projects focused on transitioning away from single-use to reuse systems and projects that aim to keep our valuable resources in the ground.
Electronic Source Reduction & Recycling: Funding will support efforts to increase and expand electronics recycling and repair across the state.
Market Development: Funding will support the development of robust local markets for reusables, compost, recyclables, and refurbished goods.
Recycling & Composting Infrastructure: Funding will support projects that expand access to recycling and composting and projects that improve the processes.
Environmental Justice Areas & Rural Communities: At least 60% of grant funds are required to be spent on projects impacting environmental justice areas, and at least 30% of grant funds are required to be invested in rural Minnesota communities.
The Zero Waste Grant program prioritizes reuse and reduction. This could look like something as impactful as helping a rural school district purchase dishwashers and reusable dishes to move away from single-use disposables, a central collection and washing station for refillable bottles for cottage industries or breweries in the area, or a community-scale composting program that reduces food waste and creates healthy soils for urban gardens. This grant program will help communities get over startup hurdles and set up sustainable systems specific to their situations.
Finally, we support the strong definitions laid out for the purposes of this grant program – including definitions for composting, recycling, reuse and zero waste. These definitions ensure that we close loopholes on false solutions that currently exist in statute and create an opportunity for grant funds to target activities that achieve source reduction and bring us closer to zero waste.
This program is a critical step toward a more sustainable economy in Minnesota. We thank Representative Hollins for her leadership on this issue. If you'd like to learn more about this legislation, contact Lucy Mullany, Director of Policy and Advocacy at Eureka Recycling.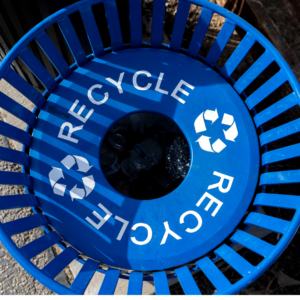 Written by Lucy Mullany, Director of Policy & Advocacy, Eureka Recycling Four states have recently passed Extender Producer Responsibility (EPR)
Read More »