For questions related to your recycling service please contact our customer service team
8am to 5pm Monday–Friday  or download the Eureka Recycling app on your iOS or Android phone.
Phone: 612-669-2783  | Email: recycling@eurekarecycling.org.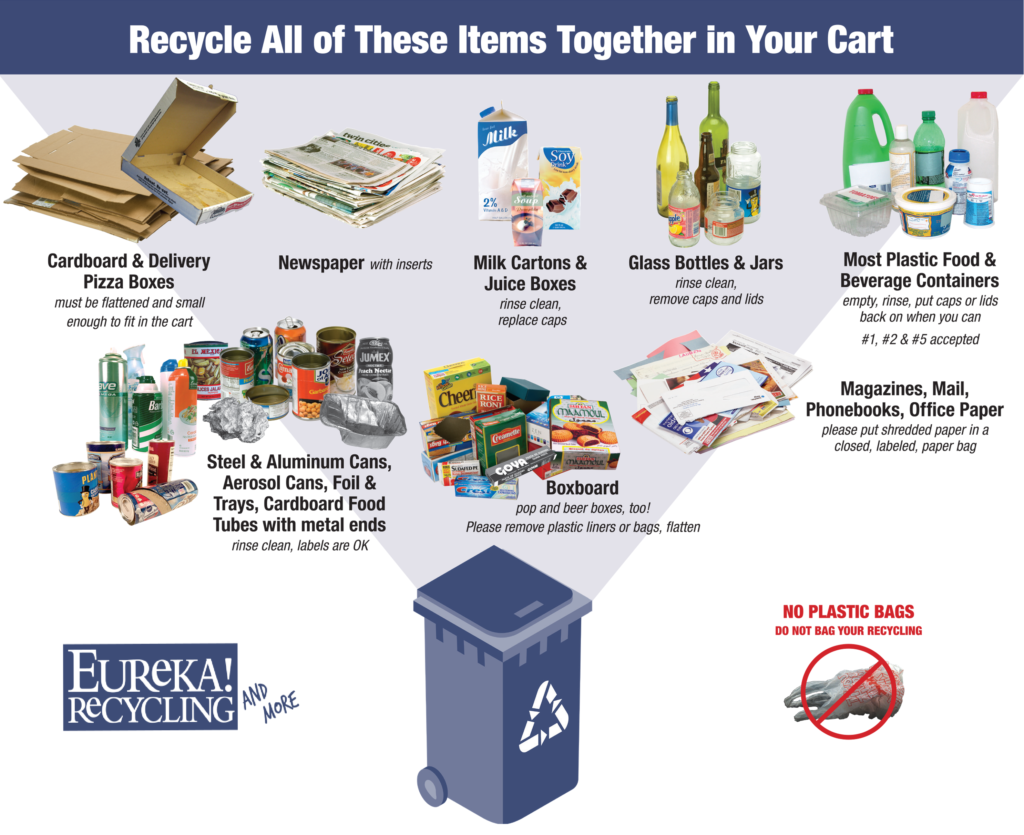 Collection Guidelines
We recommend setting your cart out the night before your recycling day. Sometimes our routes change and we may come through your neighborhood at a different time of day from one week to the next. In Saint Paul and Shoreview, all carts need to be out by 6am, and in Roseville and Lauderdale all carts need to be out by 7am.


Place your cart at the edge of the curb or at the alley line, and make sure you leave about 2 feet of space all the way around your cart, and with the cart opening facing where our truck will be.This ensures we can collect your cart with the automatic arm on our truck without risking damage to your property.


Please make sure all of your recycling fits loosely in your cart with the lid closed. Carts that are packed too tightly may not dump out all the way, and carts that are overfilled can cause litter.


If you need a larger cart or an extra cart, let us know! You can have one at no additional cost.


Do not place plastic bags in your cart and do not bag your recycling. We do not accept plastic bags or plastic film of any kind because it creates huge problems in our recycling facility.


Recycling needs to be loose in your cart in order to be sorted properly and made into new products and packaging. For more information on what is accepted in your recycling program, check out your city's recycling guide or try out our app.


Your recycling collection will only be delayed when it falls on or after one of these holidays: Memorial Day, Independence Day, Labor Day, Thanksgiving Day, Christmas Day, or New Year's Day.
City Specific Guides
For specific information about your city's recycling program, click on the link below to view your city's recycling guide.
Clothes and Linens
We provide separate collection of clean, dry clothes and linens as part of our recycling programs in Saint Paul and Roseville. Please let us know when you are planning to set out clothes and linens next to your recycling cart — you can call or email us, or schedule a collection through our app.
We accept reusable items only.
All items must be clean and dry.
Place items in a sturdy plastic bag, label it "Clothes and Linens," and fasten tightly.
Make sure the bag does not weigh more than 40 lbs. We recommend using bags that are 13 gallons  or smaller.
You can set out multiple bags if needed.
We do not accept household goods other than clothes and linens.