If you're like most people, you have a drawer dedicated to outdated or broken electronics: cell phones with cracked screens, e-readers with faulty charging ports, and laptops with bad batteries and fans that won't stop. And let's not get started on the broken TV propped against the wall in the basement.
Yes, it's tempting to toss electronics in your recycling carts and forget about it, but you have to remember that electronics are not accepted in Twin Cities Curbside recycling programs.
That's because electronic waste, or e-waste,
Contains harmful chemicals that can pollute the soil and water if it's not disposed of properly.
Contains valuable materials that can be recycled and reused, reducing the need for new resources and saving energy.
Can often be repaired and reused, keeping the hazardous materials out of our waste stream altogether.
How to Recycle Electronics in the Twin Cities
Again, recycling electronics requires special handling, and electronics cannot be disposed of in curbside recycling carts. 
Many communities have programs that accept electronic devices for recycling. Check with your local government or waste management company to see if they offer a program. Here are some examples of current drop-off centers and recyclers in the Twin Cities and elsewhere.
Recyclers

RePowered: RePowered is an R2 Certified Twin Cities' non-profit social enterprise and local industry leader in electronics recycling and refurbishing.
Earth911: Earth911 is a certified B Corporation non-profit that provides information about recycling and waste reduction. You can search the Earth11 website for e-waste recycling programs by zip code.

Retailer Drop-off Sites

Best Buy accepts most electronics for recycling, including TVs, computers, cell phones, and more. 
Target accepts ink cartridges, toner cartridges, and other small electronics for recycling. 

Hazardous Waste Drop-off Sites

Hennepin County and Ramsey County both offer a variety of hazardous waste drop-off sites – including drop-off facilities for electronics. 
You also can check your county's website for drop-off sites in your area.
Be Sure to Prep Your Devices
Before recycling your device, back up any important data and remove any personal information. Many e-waste recyclers will also require you to remove batteries or other hazardous materials.
Empty that Drawer!
So, make it a point to clear out that drawer and reclaim some space in your household by disposing of electronic waste properly. Recycling those electronics is an important step in reducing e-waste and conserving resources. But, only by properly disposing of our electronic devices can we protect the environment and create a more sustainable future.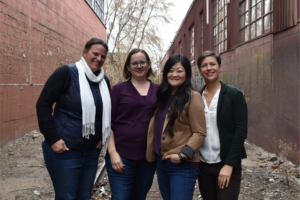 Katie Davenport, Miriam Holsinger, Katie Drews, Lynn Hoffman For the past seven years, it has been our absolute honor to
Read More »