Eureka Recycling Co-President Lynn Hoffman recently participated in the October 18th Ocean Conservancy Webinar on chemical recycling, providing insights into the challenges and considerations surrounding the controversial approach.
"It's challenging," Hoffman says, "because there are problems with plastics recycling as it exists." She points out that many of the proposed chemical recycling projects address important health and environmental issues. Especially, she notes, figuring out how to remove additives and toxic substances from recycled plastics.
But, Hoffman emphasized that 

balancing innovation and environmental responsibility is crucial for the recycling industry's sustainable future.
 "The metric we should be looking for is not whether it's possible or even economic but is it demonstrating improvements in labor standards and safety, in environmental outcomes, and in human health impacts?"
The webinar also featured Anja Brandon, Associate Director of U.S. Plastics Policy at Ocean Conservancy. Brandon outlines several chemical recycling technologies and describes the push from the plastic industry to include chemical recycling as recycling in the United Nations global plastics agreement – a high priority for the fossil fuel industry.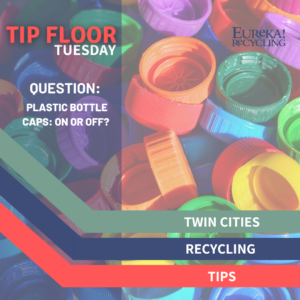 One thing Eureka visitors always ask is: what do we do with plastic bottle caps on PET water and soda
Read More »