The Minnesota State Legislative session wrapped up last month with much-needed progress toward Zero Waste policies. Environmental Justice and Zero Waste advocates from across the state collaborated to pass a number of bills. Here are a few highlights:
100% Clean Energy Standards: This law requires all electricity used in Minnesota to be generated from net-zero sources by 2040. The bill Implements safeguards to ensure marginalized communities benefit from, and are not harmed, by a 100% clean energy transition and prioritizes equitable development of clean energy and the growth of local, union jobs. The bill is the most significant climate legislation ever passed in Minnesota history and is one of the strongest in the nation.

Frontline Community Protection Act: Also called the "Cumulative Impacts Bill", this law will create stronger permitting requirements that will reduce additional pollution in already overburdened and marginalized communities. It applies to the seven-county metro area, Duluth and Rochester. Native nations also have the ability to opt-in.

Resource Management Study: In Minnesota, nearly two-thirds of what is landfilled and burned in Minnesota could be reduced, reused, recycled, or composted with improved infrastructure. Funding was allocated for the MPCA to conduct a study on how the state can move toward zero waste by reducing incineration and landfilling and moving toward a 90% reduction target. As part of the study, the MPCA must obtain input from communities across the state.

PFAS Protections: Minnesotans will be protected from "forever chemicals" in a variety of products beginning in 2025 and in all non-essential products by 2030. PFAS will also be banned from use in firefighting foam in almost all cases, and the Department of Agriculture will begin studying possible restrictions on PFAS in pesticides.

Compostable Labeling Standards: Counties and cities are increasingly developing composting facilities and diversion programs, however, they continue to face the costly problem of contamination. The vast majority of contamination is from misleading food-service products. This new law will reduce resident and business confusion by setting standards for compostable product labeling.

Right-to-Repair: Digital Fair Repair, also known as Right-to-Repair, will make it easier for Minnesotans to fix their own equipment, reduce our reliance on the resource-intensive production process and cut down on electronic waste. Agricultural and large loader equipment was not included in the final bill language. Work will need to be done in future years to further strengthen this new law.

Expansion of the Waste Management Capital Assistance Grants: The use of funding that cities and counties receive for waste management services has been expanded to cover waste reduction and reuse activities
More Work to be done: 2024 priorities
As we celebrate these policy victories, we know there is much more work to be done. According to the Minnesota Pollution Control Agency (MPCA) SCORE report, not only is the total tonnage of solid waste continuing to increase but an estimated two-thirds of what ends up in landfills and incinerators could have been reused, recycled, or composted. As we look toward the 2024 legislative session we will be working to advance the following issues:

Zero Waste Grant: Thanks to leadership from Representative Hollins and support from community partners, the Zero Waste Grant advanced through to the House Environment Omnibus. However, it was not included in the final omnibus bill. We'll be working to advance this bill next session. The grant program for small businesses, non-profits, and local governments will support their efforts to create reuse systems, reduce waste, and contribute to a circular economy. Funding priority will be given to projects that impact environmental justice and rural communities.
Truth in Labeling Recycling: Confusion about recycling stems, in large part, from misleading labeling used by producers to make their products seem sustainable when in reality their packaging is not recyclable. These materials then overwhelm and overtax the recycling systems. The State needs to establish clear labeling standards that will support both consumers and Minnesota's recycling infrastructure.
Effective Extended Producer Responsibility: Under a robust EPR system, producers would pay for the lifecycle of their packaging while reducing waste and moving towards more recyclable, compostable, and reusable products and packaging. An effective EPR program would include strong oversight and enforcement; set clear reduction, recycling, and reuse targets; prohibit false solutions like "chemical recycling, and eliminate the most problematic materials, toxics and practices. While a strong EPR could support a transition to zero waste, a weak EPR system could make our waste crisis worse while weakening our existing infrastructure.
Deposit Return System: In addition to EPR that addresses packaging, a deposit return system for bottles will further support higher recycling rates and ultimately keep resources in the ground. An effective statewide bottle deposit program in Minnesota should reduce waste, increase recycling rates, promote reuse, support a local feedstock for our supply chain, and create fair and inclusive standards for informal workers.
Electronics Recycling: Addressing the electronic waste crisis should be a top priority for Minnesota. Not only to keep this stream out of landfills and incinerators but to recapture the precious metals and reduce the need for extractive methods of metals production. A key strategy for a successful e-waste problem is to provide universal, free drop-off for ALL electronic waste, in order to demystify the process to consumers.
Over the summer and fall we'll be working with legislators and community partners to lay the groundwork for robust zero waste policy agenda. If you'd like to join our efforts to advance zero waste policies in Minnesota, contact Lucy Mullany, Eureka's Director of Policy & Advocacy.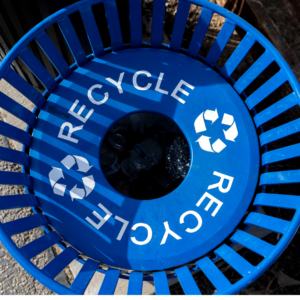 Written by Lucy Mullany, Director of Policy & Advocacy, Eureka Recycling Four states have recently passed Extender Producer Responsibility (EPR)
Read More »